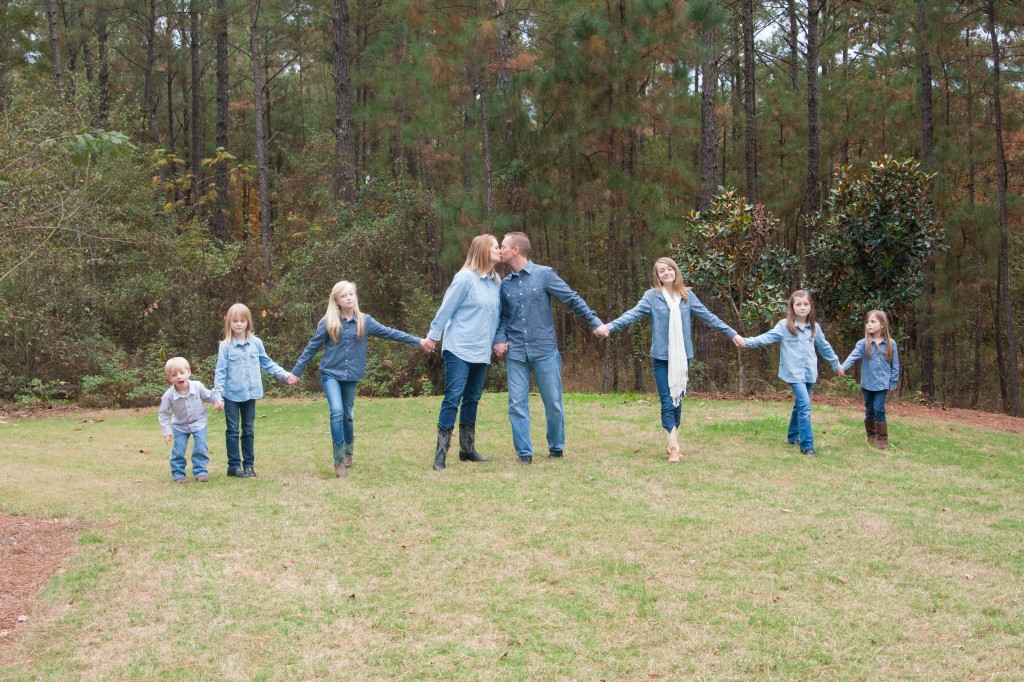 Leigh and I were married in Georgia in 1995.  We were both walking in darkness, but through the grace of our Holy God, He called us to Himself.  We moved to Dothan in 1995 and now we are raising six beautiful gifts of God (Grace Anne, Lindsey Morgan, Margaret Elizabeth, Ema Katherine, Anna Claire, and Joshua Paul).  I have been a practicing Chiropractor since 1995.  This has given me the opportunity to minister to others through my chiropractic skills as well as through prayer and sharing the gospel.  Leigh has been at home, with our children, since our oldest was born in 2000.  God has gifted Leigh with the ability to home school and disciple our children.
Since 2010 God has taken our family on a new journey……calling us to charter unfamiliar waters.  God has called us to serve Him as full-time missionaries!  WOW!  HOW EXCITING! (most of the time)  Let me explain.  A ministry called Life Action Revival Ministries (LAM) (http://www.lifeaction.org/) came to our church in 2000 and the whole focus was to call believers back to authentic Christianity.  Well, let me just say, God turned our family up side down.  For the first time I began to understand true Lordship, what it meant to be a spiritual leader, and how important it was to pray with my wife and children.  God showed Leigh what it looked like to be a submissive wife and a godly woman.  God also revealed to us the sinfulness of our lives that we were "accepting".  This season of our lives brought us into great conviction and deep repentance.  To this we say, "Praise be to our King of Kings for we will never be the same again!"
Well, life continued on, and God continued to mold us as a "potter molding His clay".  In 2010, LAM came back to our area.  The ministry was not at our church, but we felt overwhelmingly driven to attend the meetings and again God "met with us" both separately and as a couple.  God moved us into a new season of going on a "faith walk" with Him.  God very clearly showed us that He wanted us to surrender as full-time missionaries, serving with LAM.  So the journey begins….or I should say continues.  We have had the opportunity to serve with the ministry on a part-time basis as we are currently in the process of raising our support (https://www.lifeaction.org/donate/support-a-staff-member/) and selling our home and business.  Once the Lord has completed this process (which we are learning is more of a preparation process), we can serve full-time from LAM Headquarters in Buchanan, MI.  God is showing our family what it looks like to fully trust Him.  We have realized that we have been giving lip service, though genuine, in saying that we trusted the Lord.  True trust can only come from a heart of utter dependence and brokenness and "God-dependence can only begin when self-dependence ends" — Manley Beasley.  Oh Lord, how we need You!
Once we move, I will be serving as a member of Road Team Services where I will be helping to schedule LAM Summits across America.  I will also be traveling to the different churches for pre-summits to prepare the church and it's staff for the coming summit.  This will give me the opportunity to preach as well as share the testimony of what God has done and is doing in our family.  Leigh will continue to support, disciple, and educate the family at home in Buchanan.  We are excited to see what God is going to do as we follow Him in complete abandonment.  We are humbled that the Lord has granted 'us' the opportunity to serve in a ministry that leads others to a true understanding of authentic Christianity.  We need You Lord!  We desperately need You!
We are grateful that you have decided to follow us on this journey.  Thank you for your prayers, support, and encouragement!
UPDATE (12/01/13)
God has opened the door with Life Action for our family to travel with the Red Team.  I will be serving as a Family Revivalist as we travel through out the United States.  See our post, "The Lord's Timing is Perfect"  for the full story!
Shane
On behalf of: Leigh, Grace Anne, Lindsey, Margaret, Ema, Claire, and Joshua
Facebook: http://www.facebook.com/shaneleigh.black
Twitter: https://twitter.com/DrAShaneBlack
email: shane@ourfamilyhisglory.org or leigh@ourfamilyhisglory.org
Phone: (334) 791-1488 (Shane's cell)
Like Our Face Book Page     https://www.facebook.com/ourfamilyhisglory