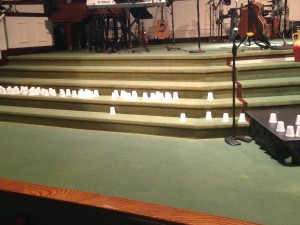 The Black Family
Serving God with Life Action Ministries
Blessings from the Blackpack.   We are in awe of how God is changing families around the country and you are a big part of that!  To that we say THANK YOU! Wow! 2015 has started with a schedule of five 4-day Thirst Conferences.  Our team reunited after Christmas break the first week of January in Picayune MS. From there we traveled to our hometown of Dothan, AL and then on to Fayetteville, GA, Augusta, GA and Keystone Heights, FL.  These churches were very gracious in their giving and attendance was good for most conferences.  God moved in significant ways in the lives of many and we are amazed at the lives changed in the four short days we were with each of these church families.  Our prayer is that lives will continue to change long after we are gone and communities will be changed for the glory of our great God.  We are so excited to share some of the stories with you…
My daughter and I were battling each other like WWIII.  We were hurtful, negative and could not get along. Tuesday night of the conference God spoke to me about getting it right. I followed through at asking her to forgive me and told her I loved her. She did the same. Wednesday was a total different day. PTL
I had been harboring so much anger towards myself but God has allowed me to release that and give my burdens to Him. I know that He is with me now and won't let me go.  -Victoria  Fayetteville, GA
God has especially revealed to me that I have been harboring bitterness and resentment toward a person from a past relationship. I no longer hold this resentment because God has shown me how this affects other relationships and how I should be reflecting His image.  -Andrew  Fayetteville, GA
I find myself "leaking" and get upset and irritable towards my family, friends, and coworkers. God has shown me the importance of filling myself with His spirit and love so that He spills out when my cup is shaken.  -Karen  Augusta, GA
I have learned this week that I need to be a more Christ like mom. Yes we attend our church for almost all events and have been here all week, however, when we get home we are far from Christ Like. Yelling, arguing, disobedience and much frustration. I need to pour more of God's word into my heart so that it overflows to my children.  -Danielle  Augusta, GA
Coming into February we have an exciting month ahead. This month we will be celebrating our 20th wedding anniversary. Please pray that God will continue to strengthen our marriage during this season of ministry on the road and that we will be a testimony to the glory of the Lord.  Lindsey will be turning 13 on the 28th and our team members must decide by the end of February whether they will continue to travel into the 2015/2016 travel season.  We would also ask that you continue to be in prayer for the sell of our house in Dothan Alabama as well as continued safety for our family as we travel.  Thank you so much for your prayers and support. We love and appreciate each of you and are blessed continually by your faithfulness in giving and praying for our family.  Our family would consider it an honor to pray for you and your family.  We encourage you  to  submit  any prayer requests  you may  have  or  you  can  email  them to   lblack@lifeaction.org.  Have a blessed day and we look forward to hearing from you!
Much love. The Black Family
sblack@lifeaction.org                    lblack@lifeaction.org
P.S. We have begun sending our newsletter by email.  Please help us cut cost and more effectively serve God with our funds by sending your email address to lblack@lifeaction.org or text it to 334-791-1487.  We would like to send our ministry updates via email but if you do not have or use email we will happily send these via snail-mail. Please let us know if you prefer postal delivery so that we will not ask for this information again.
This post is a copy of our January/February Newsletter.   If we do not have your email address and you would like to have the newsletter emailed to you in the future, please send your email address to lblack@lifeaction.org